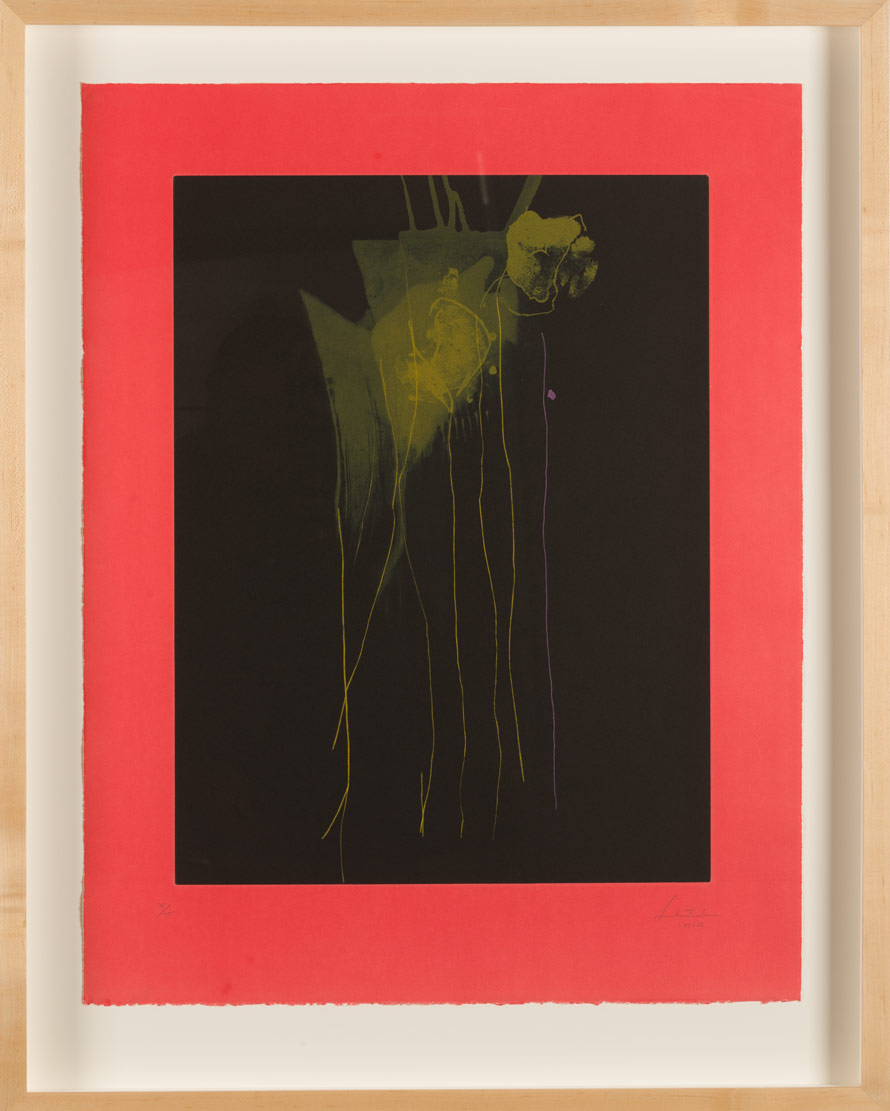 Helen Frankenthaler "Ramblas"
Helen Frankenthaler "Ramblas" Harrison 141, Afif Prints 3 Six color etching, drypoint and lithograph, c. 1987-88 Signed in pencil, lower margin on rives paper This impression 35 from the edition of 75 signed and numbered by artist Image size: 34 1/4" x 26 3/4" Fresh bring colors, full margins REF. #2112 $11,500
​Throughout her long career, Helen Frankenthaler experimented tirelessly, and, in addition to unique paintings on canvas and paper, she worked in a wide range of media, including ceramics, sculpture, tapestry, and especially printmaking. Hers was a significant voice in the mid-century "print renaissance" among American abstract painters, and she is particularly renowned for her woodcuts. In 1987, Frankenthaler accepted an invitation to come to Barcelona and work with master printer Joan de Muga at Ediciones Poligrafa. During a 10-day period Frankenthaler began 4 mixed-media works combining lithography (4 aluminum plates) and etching and drypoint (one copper plate). Joan de Muga made 6 visits to Frankenthaler's studios in New York and Connecticut in the following months brining proofs; Frankenthaler made corrections and gave precise instructions on the way she wanted them printed. The edition was printed after she was finally satisfied with her changes. The result is a large, rich, complex and beautiful work. The signed impressions were sold by Galeria Joan Prats; the artist's proofs were Frankenthaler's.
Frankenthaler, whose career spanned six decades, has long been recognized as one of the great American artists of the twentieth century. Heir of first-generation Abstract Expressionism, she brought together in her work a conception of the canvas as both a formalized field and an arena for gestural drawing. She was eminent among the postwar American abstract painters and is widely credited for playing a pivotal role in the transition from Abstract Expressionism to Color Field painting. One of the foremost colorists of our time, she produced a body of work whose impact on contemporary art has been profound. During the 1950s, Frankenthaler defined her personal style, moving away from abstract expressionism to develop a new technique: pouring thinned pigment onto unprimed canvas. This pouring technique created abstract fields, or shapes, of color, simplifications of scenes in nature, and achieved a dynamic lyricism that claims the picture space. Frankenthaler's stained paintings, based on real or imaginary landscapes, epitomize her art.
In addition to teaching at New York, Harvard, Princeton, and Yale Universities, Frankenthaler has had numerous one-person exhibitions, including retrospectives at the Whitney Museum of American Art, the Museum of Modern Art, New York, the Modern Art Museum of Fort Worth, the National Gallery of Art, Washington, D.C., and tour, in 1993 (prints); the Royal Scottish Academy, Edinburgh, in 2003 (works on paper).